The future of carbon capture systems
Out-of-the-box modular solutions for easy, affordable and scalable carbon capture.
Disrupting the carbon capture industry
The size and cost of installing carbon capture technology has been a significant barrier to adoption. But with our latest carbon capture solutions, CCUS technology is within reach for more companies than ever, supporting the widespread CCUS adoption and industrial decarbonisation.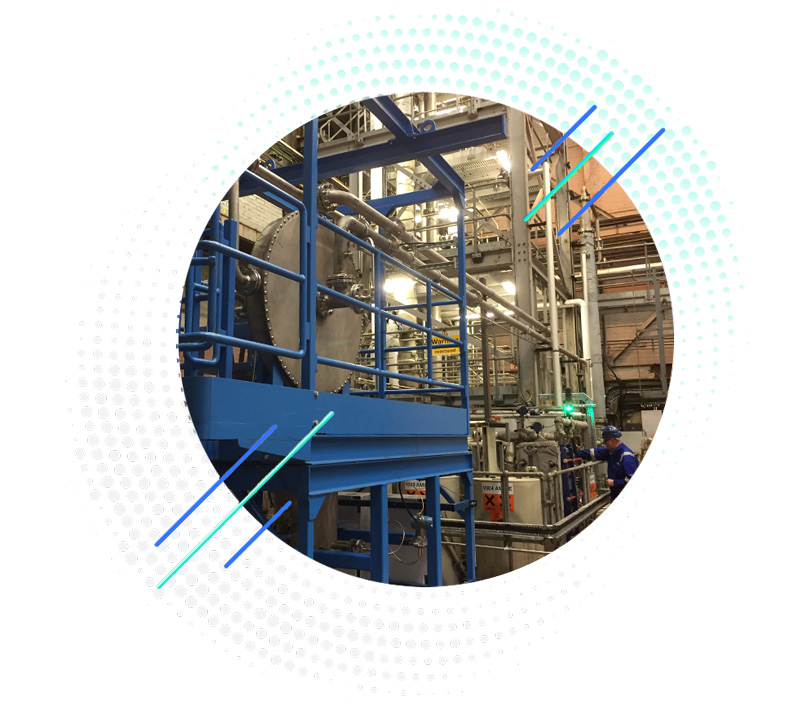 Modularisation is the future of carbon capture – accelerating the transition to a green industry and net zero world.
Our solutions enable industrial facilities of all sizes to decarbonise more easily and affordably than ever before. Instead of a lengthy design and engineering process, modularisation provides a fast, scalable, standardised solution that can be adapted to any site. Modular systems are prefabricated off-site by the manufacturer, containerised and delivered to the site ready to install.
Easier installation of modular units minimises site disruption and execution time, allowing your facility to continue its regular processes. Modular equipment is also much smaller than a traditional open-plant system, allowing your site to save space, secure permits faster and successively scale your decarbonisation portfolio.
CycloneCC: Modular solution
CycloneCC is a breakthrough combination of two proven technologies: Carbon Clean's advanced, proprietary amine-promoted buffer salt solvent (APBS-CDRMax®) and a process technology – rotating packed beds (RPBs). When utilised together they ensure CycloneCC is far more efficient than conventional carbon capture methods, reducing costs while matching performance. ​
Built on a skid mount, each CycloneCC unit will be delivered ready to install and can be fully operational in less than eight weeks. This minimises site disruption and safety concerns, as well as facilitating faster permitting. It is also a scalable solution – standardised designs allow companies to add units in line with their decarbonisation trajectory, phasing the investment required to achieve their goals.
1

Cost-effective: CapEx and OpEx are reduced by up to 50%

2

Modular and scalable: mass transfer equipment is 10x smaller

3

Prefabricated: improved safety profile and faster permits

4

Skid mounted: quick installation and minimal site disruption

5

Standard sizes: 10, 100, 300 TPD
Fully engineered standardised designs facilitate scalability and reduce size and overall cost of carbon capture up to 50%
CDRMax: Semi-modular solution
For facilities ready to harness the benefits of modularisation today, we offer semi-modular solutions.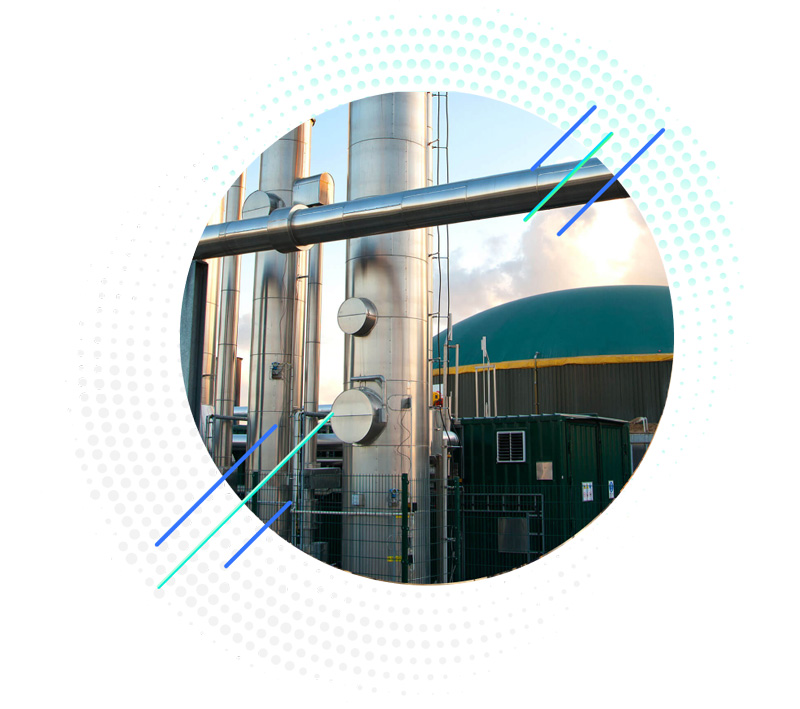 These systems modularise and containerise about 80% of a carbon capture system, giving you the majority of the benefits of modularisation. Installation and on-site activity is dramatically reduced compared to an open-plant construction.
Our semi-modular systems are proven, fully scalable solutions, currently being operated on 49 technology references around the globe. A semi-modular solution is a good option for facilities requiring 10-300 TDP CO2. Beyond this size, an open-plant design is required. See our technology licence.
1

Pre-fabricated semi-modular systems

2

Capacities 10-300 TPD CO2

3

Less installation and on-site activities

4

Reduced project timeline
Leading the way to decarbonisation
"We want the UK to be a world leader in developing and deploying Carbon Capture, Usage and Storage technology, which will be a critical tool in decarbonising industry and ensuring our manufacturers remain internationally competitive.

Backed by £5 million of government funding, Carbon Clean's innovative new technology will help make the widespread industrial adoption of carbon capture a reality, supporting UK industries to decarbonise while attracting new investments as we work towards ending our contribution to climate change 2050."
Greg Hands
UK Energy & Climate Change Minister
"With many industrial plants having limited space, the biggest barriers to widespread CCUS adoption have been the size and cost of existing technology. Carbon Clean is breaking down these barriers with the world's smallest industrial carbon capture solution. CycloneCC is the next generation of technology that will make carbon capture simple, affordable, and scalable - bringing it within reach of a huge number of industrial emitters, especially those with small to mid-size emission point sources."
Aniruddha Sharma
Co-founder & CEO of Carbon Clean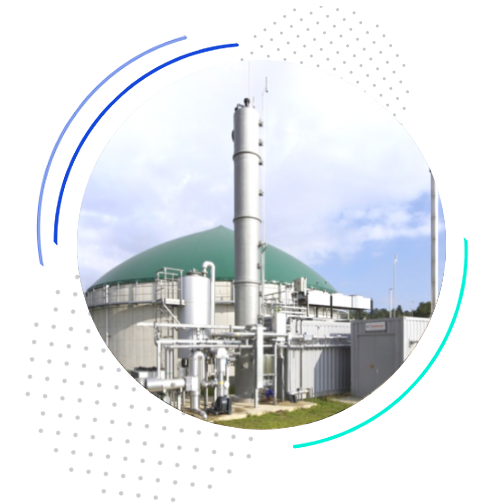 High-performance proprietary solvents
Since 2018, Carbon Clean in collaboration with Arcanum Energy has surpassed 500,000 m3 of biogas processed per day with its APBS-CARBex® solvent in their biogas upgrading facilities in Germany. Compared to the standard amine, Carbon Clean's technology provides several advantages that allows the plants to operate more efficiently.
Less Thermal Energy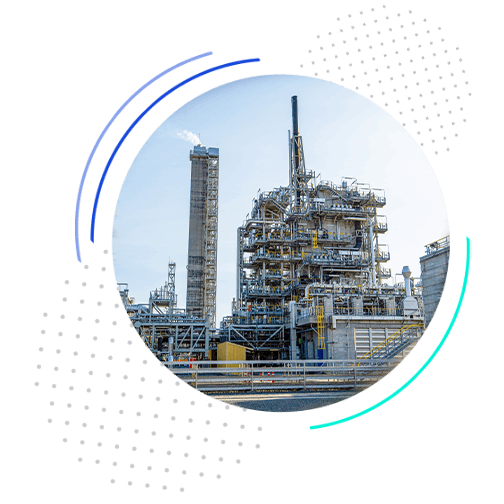 Breakthrough technology for low-cost carbon capture
In 2017, Carbon Clean announced breakthrough test results from the Technology Centre Mongstad (TCM) pilot. Corrosion testing confirmed that with APBS-CDRMax®, it is possible to construct with less expensive materials such as carbon steel rather and a lower grade of stainless steel.
Cost Reduction (up to)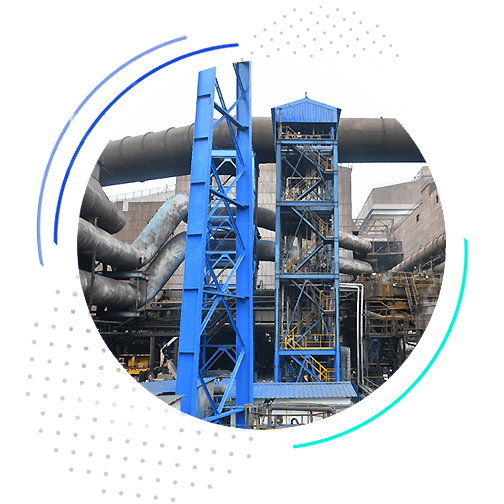 First-of-its-kind CCUS for the steel industry
We have designed and commissioned India's first blast furnace carbon capture plant for Tata Steel in 2021. The modular skid mounted unit plant captures 5 tonne of CO2 per day and is the first-of-its-kind in the global steel industry. The captured CO2 is reused on site and there are plans for larger carbon capture plants in the future.
Industries
Our next-gen carbon capture technology is designed specifically for hard to abate industries, including steel, cement, refinery, waste to energy and biogas.
Energy from Waste
By utilising CCUS at EfW plants, municipal authorities can decarbonise the entire waste chain, and achieve a huge reduction in the carbon footprint of individuals in cities.
Learn More

Biogas
CO2 and other impurities must be removed from renewable natural gas (RNG) feeds – like biomethane and landfill gas — to meet purity specifications. Our proprietary solvent is a simple drop-in enhancement for current solvents, delivering better performance for CO2 removal.
Learn More