Carbon Clean joins forces with industry giants to demonstrate the value of carbon capture
February 2, 2023
|
2 minute read
Flue2Chem aims to transform the sustainability of the UK's consumer products industry by developing a new value chain using captured CO2


The collaborative project includes industry giants – BASF, Tata Steel and Unilever – in a first ever cross-sector collaboration to reduce greenhouse gas emissions




The two-year project has received £2.68 million of grant funding from Innovate UK
Carbon Clean, a global leader in cost-effective carbon capture solutions, has joined forces with 14 other organisations, including BASF, Tata Steel and Unilever, to demonstrate the value of carbon capture to the UK consumer products sector.
The two-year Flue2Chem project will develop a new value chain to convert industrial waste gases into sustainable materials for consumer products, which could result in a saving of 15-20 million tonnes of CO2 emissions a year in the UK. It is receiving £2.68 million of grant funding from Innovate UK's Transforming Foundation Industries (TFI) Challenge.
Foundation industries such as metals, glass, paper and chemicals could provide alternative sources of CO2 for UK consumer product production, at a time when most of the carbon used in everything from electronics to home care and many other products is extracted from coal, oil and gas. If the UK is to reach its net zero target by 2050, industries must find an alternative source for the carbon in these goods.
Carbon Clean's fully modular CycloneCC carbon capture technology will capture 10 TPD of CO2 from three industrial sites – at Holmen, Tata Steel and UPM – as part of the project.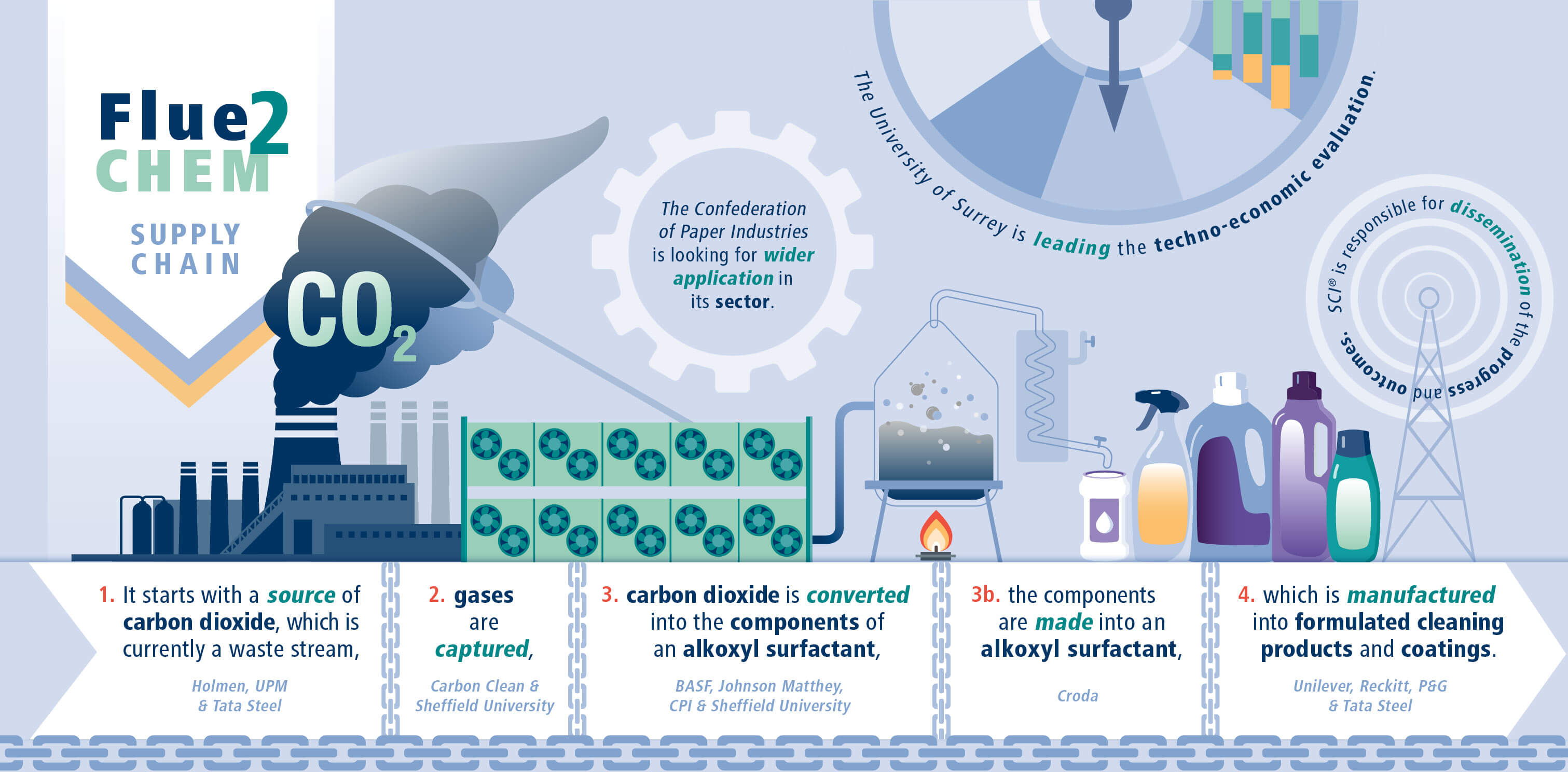 James Hall, Head of Research at Carbon Clean, said:
"We're excited to be working alongside UK industry giants and academia in this project to evaluate the full value chain of carbon capture and utilisation in the UK. Deploying our carbon capture technology in foundation industries, such as metals, glass, paper and chemicals, will generate a vital source of CO2 for the UK consumer products industry. It's a great example of the circular carbon economy in action – transforming captured carbon into affordable raw materials for consumer products."
Currently the UK is importing large amounts of carbon containing feedstocks each year for use in the consumer goods industry, so securing an alternative domestic source will also bring economic benefits. Aside from the technical aspects of the project, the business model development will frame the economic incentives that are likely to be required to make the model work. The project will bring together partners from across the whole supply chain to achieve this.
Ends
For media enquiries please contact:
Email: press@carbonclean.com / carbonclean@kekstcnc.com
Tel: +44 7870 487 532
Notes to editors

1. Flue2Chem project partners are: BASF, Carbon Clean, Centre for Process Innovation, Confederation of Paper Industries, Croda, Holmen, Johnson Matthey, Procter & Gamble, Reckitt, Society of Chemical Industry (SCI), Tata Steel, The University of Sheffield, The University of Surrey, Unilever and UPM-Kymmene. These organisations encompass the capture, transformation and use of carbon emissions in industry.
2. The project announcement is here and the lead for project communications is Maxine Boersma, PR & Content Manager, SCI: 07771 563373 or maxine.boersma@soci.org
About Carbon Clean
Carbon Clean is a global leader in carbon capture solutions for hard-to-abate industries such as cement, steel, refineries, energy from waste and biogas. The company's patented technology significantly reduces the costs of carbon capture when compared to conventional solutions.
The company is leading innovation in the CCUS market and has developed a fully modular technology – CycloneCC – that will help deliver the necessary scaling of carbon capture to achieve global net zero targets. Carbon Clean's technology is operational in 49 sites around the world, including the world's largest industrial-scale carbon capture and utilisation plant for Tuticorin Alkali Chemicals & Fertilizers Ltd, India.
Headquartered in the UK, the company has received funding and grant support from the British and US governments and has established partnerships with industry leaders including CEMEX and Veolia. It is also an investor in the Swedish eMethanol fuel company, Liquid Wind.
Carbon Clean is a BNEF Pioneer 2022 company, a Global Cleantech 100 company (for the fourth time), a WIRED Trailblazer company, and features in the inaugural PwC Net Zero Future50.
For further information: www.carbonclean.com