Net zero target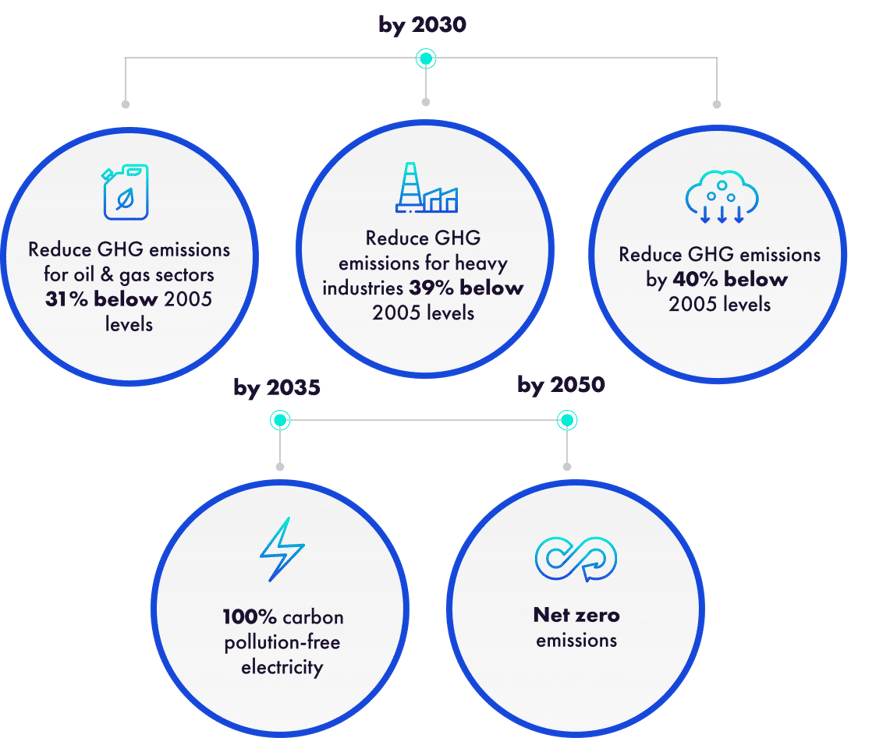 Clean Fuel Regulations


Canadian Net Zero Emissions Accountability Act

2030 Emissions Reduction Plan



Federal Fuel Charge


Federal Output-Based Pricing System (OBPS)

Other Carbon Pricing Mechanism

30% of Canada's end-use energy has the potential to be delivered by clean Hydrogen by 2050.
Clean hydrogen has the potential to deliver up to 6% of Canada's end-use energy (4 Mt of hydrogen) by 2030, and 30% by 2050 (20 Mt of hydrogen) abating up to 45 Mt CO2e of GHG emissions by 2030 and 190 Mt CO2e by 2050 through deployment in transportation, heating and industrial applications.
90% or greater production of hydrogen with CCUS by 2030.
The strategy states that production of hydrogen from fossil fuels without CCUS should be coupled with greater than 50% production of hydrogen from fossil fuels with CCUS, as soon as possible and move to predominantly greater than 90% production with CCUS by 2030.

Canada has the potential to produce vast amounts of hydrogen from natural gas coupled with CCUS. Thus, CCUS is an integral part of the Canada's Hydrogen Strategy.
Further information: Hydrogen Strategy For Canada; Clean Fuels Fund

A Healthy Environment and a Healthy Economy is the federal plan to build a better future with a healthier economy and environment. As part of this plan, Net Zero Accelerator of CAD 3 billion over five years, is being delivered via the Strategic Innovation Fund. This will rapidly expedite decarbonisation projects with large emitters, scale up clean technology and accelerate Canada's industrial transformation across all sectors. The plan discusses the development of a comprehensive CCUS strategy and exploring other opportunities to help keep Canada globally competitive in this growing industry.


Energy Innovation Program – CCUS RD&D call

Energy Innovation Program – FEED Studies for CCUS

Canada Growth Fund and Carbon Contracts for Difference

Carbon Capture, Utilization, and Storage Investment Tax Credit
Other funding opportunities
CAD 319 million
As part of its 2021 Budget, the government is investing CAD 319 million over seven years into research, development, and demonstrations to advance the commercial viability of CCUS technologies. These funds will support businesses, academia, non-profits, government and federal laboratories.
Further information: Funding Opportunity
1.5 billion CAD committed over five years to establish a Clean Fuels
The 2021 Budget committed CAD 1.5 billion over five years to establish a Clean Fuels Fund, that will de-risk the capital investment required to build new or expand existing clean fuel production facilities (including facility conversions). The Clean Fuels Fund will help Canadian companies produce clean fuels, create up to 36,000 new jobs by 2030 and enable the reduction of GHG.
Further information: Funding Opportunity
8 billion CAD provided by the Net Zero Accelerator (NZA) initiative
The Net Zero Accelerator (NZA) initiative supports Canada's net zero goals to help transform the economy for clean and long-term growth. This initiative will provide up to CAD 8 billion to support large-scale investments in key industrial sectors across the country.
The NZA investment pillars are:
Decarbonisation of large emitters: investments aim to help Canada's largest industrial emitting sectors such as oil and gas and heavy industry dramatically reduce their current domestic GHG footprint faster and with less financial risk.
Industrial transformation: investments aim to ensure that established industrial sectors, such as automotive transportation, aerospace, and electricity (or electrification) remain successful and competitive in the net zero global economies of the future.
Clean technology and battery ecosystem development: investments aim to capitalise on emerging clean economy opportunities and establish Canada as a global clean tech leader and promote the development of clean technologies such as hydrogen, CCUS and a made-in-Canada battery ecosystem.
The NZA is a part of the Strategic Innovation Fund and accepts applications on an ongoing, non-competitive basis.
Further information: Funding Opportunity