Net zero target
Addressing the climate crisis requires scaling existing solutions, while investing in innovation to develop additional solutions, enabling multiple pathways to reach global net zero emissions. The US has established an economy-wide target of reducing its net greenhouse gas emissions by 50-52% below 2005 levels, by 2030. US climate policies and regulations demonstrate its commitment to the creation of quality work and jobs as an integral part of its efforts to combat climate change.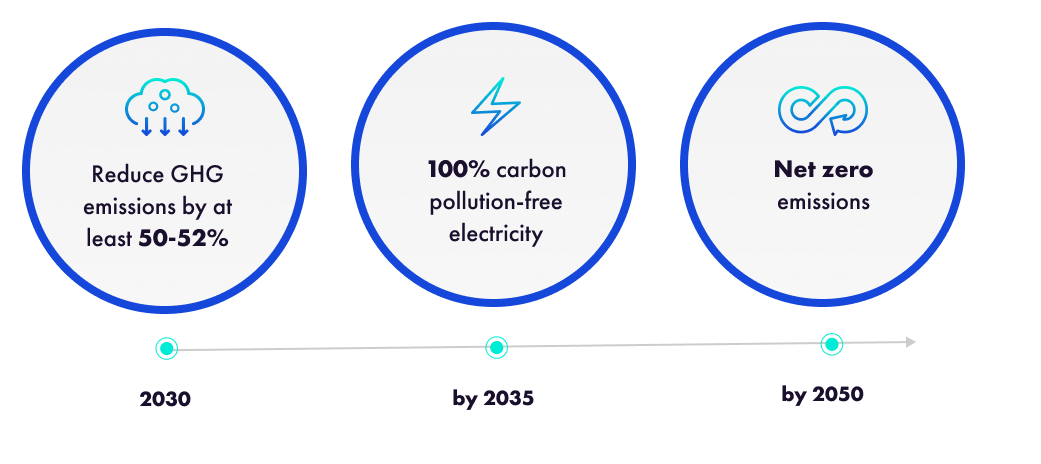 Further information: US NDC; The long-term strategy of US; 2030 GHG Target


The Bipartisan Infrastructure Law (2021)

Inflation Reduction Act (2022)


Regional Greenhouse Gas Initiative

California Cap-and-Trade Program

$9.5 billion in hydrogen funding in Infrastructure Law
Before 2025:
Establish Clean Hydrogen Production Standard
Develop and optimize designs for hydrogen infrastructure in key applications, such as industry and energy storage
Identify regulatory and policy gaps to hydrogen production and end use, including for blue hydrogen
Lay regulatory groundwork for large scale clean hydrogen deployments across production, processing, delivery, storage and end-use
Identify regulatory, and policy gaps, and key strategies to address them
Develop streamlined guidance on hydrogen pipeline and large-scale project permitting with stakeholder engagement
Develop market structures and offtake agreements to accelerate progress
Initiate transition to clean hydrogen for hard-to-decarbonize industrial applications and identify specific locations for potential scale up (e.g., ammonia, refineries, steel)
Between 2026 and 2029
Deploy clean hydrogen from renewables, nuclear, fossil + CCS at scale
Deploy at least two Regional Clean Hydrogen Hubs, demonstrating hydrogen use in hard-to-decarbonize sectors (e.g., industry and heavy-duty transport)
Between 2030 and 2035
Produce at least 10 MMT/year of clean hydrogen by 2030
Design networks of hydrogen infrastructure optimized for regional supply and demand, in collaboration with local communities and stakeholders to maximize benefits and ensure energy, environmental, and equity goals are addressed
Utilize lessons learned from large-scale deployments to identify priority sectors for future growth
Launch at least one Regional Clean Hydrogen Hub demonstrating hydrogen use in energy storage
Develop market structures and regulatory guidance to enable clean hydrogen exports
Further information: Clean Hydrogen Roadmap and Strategy
$9.5 billion in hydrogen funding in Infrastructure Law
DOE establishes BIL's $9.5 billion clean hydrogen initiatives.
Public input is needed on new hydrogen hubs, clean hydrogen manufacturing programs to decarbonize industry, and transportation sectors.
Clean hydrogen is crucial to DOE's strategy for achieving President Biden's goal of a 100% clean electrical grid by 2035 and net zero carbon emissions by 2050.
Further information: Bipartisan Infrastructure Law
$8 billion towards developing four clean hydrogen hubs
BIL authorizes and appropriates $8.0 billion over the five years encompassing fiscal years 2022 through 2026 for the development of at least 6-10 H2Hubs that:

Aid achievement of the clean hydrogen production standard.
Demonstrate the production, processing, delivery, storage, and end use of clean hydrogen.
Facilitate the development of a national clean hydrogen network.

CCS is an integral part of the US Hydrogen strategy and at least one of the hubs will use fossil fuels as a feedstock along with CCS.
Further information: Hydrogen Program Plan, US DOE Funding Opportunity Announcement

The US Environmental Protection Agency has recently proposed new regulations which would require all large fossil fuel power plants to either use carbon capture technology by 2035, or to deploy low carbon Hydrogen to achieve equivalent emissions carbon by 2038. While likely to be subject to legal challenge, if implemented the regulations will provide a further incentive for deployment of carbon capture technology.

$6 billion in March 2023 to reduce GHG emissions in energy-intensive industrial subsectors
On Mar. 8, 2023, the U.S. DOE issued a Funding Opportunity Announcement (FOA) for approximately $6 billion to significantly reduce greenhouse gas emissions in energy-intensive industrial subsectors through transformational, commercial-scale demonstration projects. This funding opportunity has three topic areas:
Near-Net-Zero facility building projects
Facility-level large installations and overhaul retrofits
System upgrades and retrofits for critical unit operations or single process lines within existing facilities
OCED expects to make up to 55 awards between $35-500M each with a minimum of a 50% cost-sharing from the awardees.
Further information: Funding Opportunity
$10 billion between 2022-2025 under the Bipartisan Infrastructure Law declared in July 2022
The US DOE's first $2.54 billion investment from BIL funds the Carbon Capture Demonstration Projects Program and Carbon Dioxide Transport / Front-End Engineering Design (FEED) Program.
These two programs will advance carbon capture demonstration projects and expand regional pipeline networks to transport CO2 for permanent geologic storage or conversion into valued end uses, such as construction materials. The six facilities employing integrated CCS demonstration systems will be:
Two projects designed to capture

CO

2 from a coal electric generation facility
Two projects designed to capture

CO

2 from a natural gas electric generation facility and
Two projects designed to capture

CO

2 from an industrial facility not purposed for electric generation (AOI-3).
These programs aim to catalyse investments in clean energy and advance President Biden's goal of a net zero GHG emissions economy by 2050 while creating good-paying jobs and economic opportunities.
Opening Date: OCED plans to issue the FOA in the August/September 2022 timeframe
Further information: Funding Opportunity
Wider industrial decarbonisation funding opportunities
$369 billion towards climate change in the proposed Inflation Reduction Act 2022
The IRA 2022 dedicates $369 billion to fight climate change. CCUS would see a major boost in 45Q credits with $3.2 billion dedicated to CCUS tax credits and enhancements made to 45Q.
Further information: Inflation Reduction Act
$62 billion to deliver a more equitable clean energy future in Bipartisan Infrastructure Law
The BIL includes more than $62 billion for the US DOE to deliver a more equitable clean energy future for the American people.
Further information: Bipartisan Infrastructure Law