Carbon Clean wins COP28 Energy Transition Changemaker award
Carbon Clean awarded Sustainable Markets Initiative 2023 Terra Carta Seal
Carbon Clean moves to new net zero global headquarters
Carbon Clean and Samsung Engineering partners on marine carbon capture solutions
ADNOC selects CycloneCC carbon capture technologyfor industrial project in the UAE
Carbon Clean announces appointment of Allan Swan to Board of Directors
Carbon Clean awards KBR design contract for FlagshipONE project
Carbon Clean extends senior team with Chief Delivery & Supply Chain Officer
Carbon Clean's new Houston headquarters signals major US expansion
Ørsted awards FlagshipONE carbon capture contract to Carbon Clean
Carbon Clean announces participation in Flue2Chem
Carbon capture begins at NTPC's power plant in India
Carbon Clean raises record funding round
Our impact
Our global carbon capture company is led by industry experts with over a decade's experience designing, building, financing and operating industrial carbon capture systems.
1176
CO2 Captured Today (Metric Tonnes)
1955834
CO2 Captured Since 2009 (Metric Tonnes)
"In alignment with the Tata group's pioneering values, we have taken this strategic step in our journey towards decarbonisation. We will continue our quest to remain an industry leader in sustainability by setting new benchmarks for a better tomorrow. For the sustainability of the steel industry globally and particularly in a growing country like India, it is essential that we find economical solutions for capturing and use of CO2 at scale. Leadership in mitigating emissions, accessing low-cost clean energy, and providing circular economy solutions will define our sector's journey going forward.
The operational experience gathered from this 5 tonnes per day CO2 capture plant will give us the required data and confidence to establish larger carbon capture plants in future. As the next step, we aim to establish scaled up facilities of CO2 capture integrated with utilisation avenues."
T. V. Narendran
CEO & Managing Director, Tata Steel
"Chevron is committed to producing affordable, reliable, and ever-cleaner energy. We invest in breakthrough technologies that both lower emissions in oil and gas and are integral to low carbon value chains. Our investment in Carbon Clean aims to help commercialize and scale carbon capture utilization and storage technologies, a key part of delivering on our commitment."
Barbara Burger
President of Chevron Technology Ventures
"Since October 2016, Tuticorin Alkali Chemicals and Fertilizers Limited, in partnership with Carbon Clean, has been operating the world's first industrial-scale carbon capture and utilisation (CCU) plant near Chennai, India. Installed on a coal-fired boiler, the plant is designed to capture 60,000 tonnes of CO2 per year. Not only does it meet cost and performance expectations, but we're able to convert the CO2 into soda ash (an ingredient found in commercial household products)."
G. Ramachandran
Managing Director, Tuticorin Alkali Chemical and Fertilizers Ltd., Chennai, India
"Compared to the standard amine we use, Carbon Clean's technology has a lower specific heat demand and allows us to operate the plant in a much smoother way. While using APBS-CARBex our plants operate very smoothly, especially during hot summer periods we see less foaming and fluctuations in biomethane production."
Benjamin Goerges
Head of Technical Sales and Service, at Arcanum
"Accomplishing CO2 capture at an industrial scale and affordable cost is one of the biggest challenges that CEMEX is facing in its road to deliver net-zero CO2 concrete products globally by 2050. Partnering with Carbon Clean seemed like a perfect fit for us. We believe in their technology and know that working together, we can make possible a more cost-effective carbon capture solution below the $30/tonne threshold."
Gonzalo Galindo
Head of CEMEX Ventures
Proven benefits. Increased profit.
Our solutions help industry decarbonise and leverage the growing value of captured carbon. The opportunity to take part in the circular economy of capturing and selling carbon dioxide is predicted to be a key differentiator for long-term success. It's the first movers that will stand to benefit the most.

Modular Carbon Capture
Our energy-efficient CDRMax™ process can achieve 90%+ capture rates and delivers industrial quality CO2 for re-use or sequestration.

Improved Bottom Line
Our technology offers the lowest corrosion rates, highest HSE standards, an uptime rate of 98+%, and can operate for more than 200,000 hours on commercial plants.

30% More Commercially Viable
A leader in cost-effective modular technology set to achieve $30/tonne cost of CO2 capture. Large emitters will be able to offset the cost of carbon capture with their carbon tax from as early as next year.

A Multibillion-Dollar Market
Recycled CO2 products are now a multibillion-dollar growing market. Current estimates put the market opportunity for carbon capture at more than $1 trillion per annum.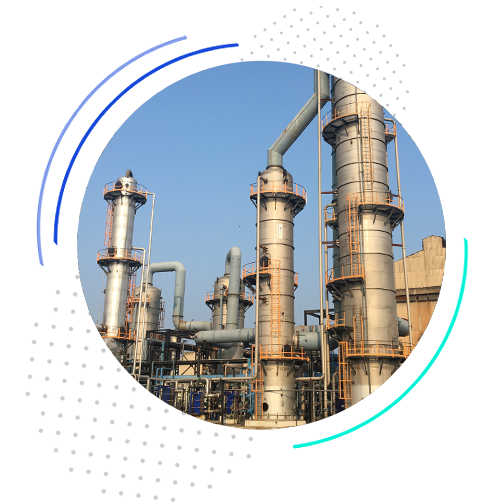 Purpose-Built: Technology for Industry
In 2016, Tuticorin Alkali Chemical and Fertilizers Ltd. partnered with Carbon Clean to create the world's first fully commercial carbon capture, storage and utilisation plant. Located near Chennai, it has been achieving over 90% carbon capture rates since it began operation.
Carbon Capture Rate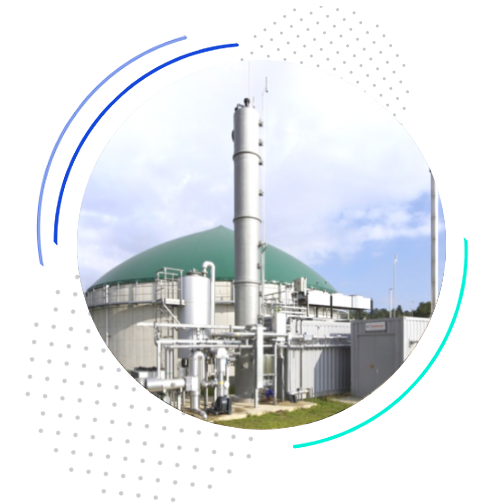 Proprietary: High-Performance Solvents
Since 2018, Carbon Clean in collaboration with Arcanum Energy has surpassed 500,000 m3 of biogas processed per day with its APBS-CARBex® solvent in their biogas upgrading facilities in Germany. Compared to the standard amine, Carbon Clean's technology provides several advantages that allows the plants to operate more efficiently.
Less Thermal Energy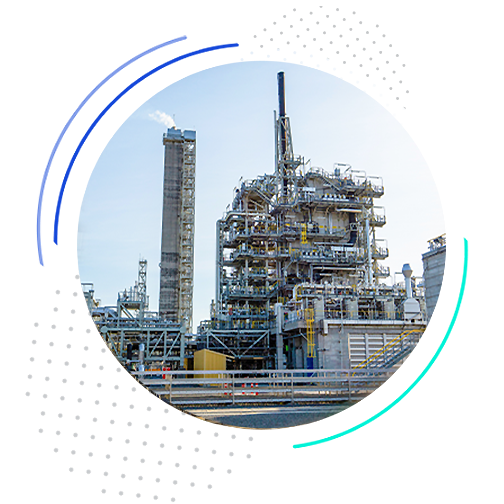 Breakthrough: Technology for Cost-Effective Carbon Capture
In 2017, Carbon Clean announced breakthrough test results from the Technology Centre Mongstad (TCM) pilot. Corrosion testing confirmed that with APBS-CDRMax®, it is possible to construct with less expensive materials such as carbon steel rather and a lower grade of stainless steel.
Cost Reduction (up to)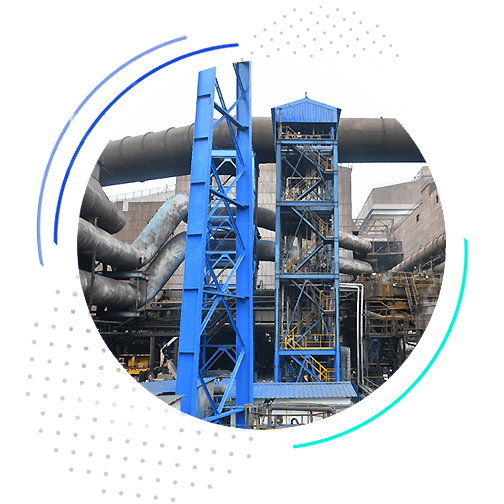 First-of-its-kind: CCUS for the steel industry
We have designed and commissioned India's first blast furnace carbon capture plant for Tata Steel in 2021. The modular skid mounted unit plant captures 5 tonne of CO2 per day and is the first-of-its-kind in the global steel industry. The captured CO2 is reused on site and there are plans for larger carbon capture plants in the future.
49 facilities across the globe
Minimising climate change and achieving carbon net zero is of global importance — and we understand the key challenges from an industrial perspective. We enable hard-to-abate industries — including steel, cement, refineries and energy from waste (EfW) — to navigate these new climate imperatives with technology that reduces cost, space, and execution time, with minimal on-site disruption.
CO2 industrial capture & utilisation (CCU)
Location: USA
Phase of project: Pilot & demonstration
Sector of project: Research & testing
Project description: 10 TPD demonstration for advanced solvent capture in coal-fired conditions
University of Kentucky Center of Applied Energy Research
Location: USA
Phase of project: Pilot & demonstration
Sector of project: Research & testing
Project description: 4 week test campaign
University of Kentucky Center of Applied Energy Research
Location: USA
Phase of project: Pilot & demonstration
Sector of project: Research & testing
Project description: 14 TPD solvent testing in pilot plant for coal-fired flue gases
Location: USA
Phase of project: Pilot & demonstration
Sector of project: Research & testing
Project description: 1 TPD advanced thermal capture for coal-fired flue gases
University of Kentucky Center of Applied Energy Research
Location: USA
Phase of project: Pilot & demonstration
Sector of project: Research & testing
Project description: 1 TPD solvent demonstration
Tuticorin Alkali Chemicals and Fertilizers
Location: India
Phase of project: Operational
Sector of project: Chemicals
Project description: 60,000 TPY carbon capture plant
Technology Centre Mongstad
Location: Norway
Phase of project: Testing
Sector of project: Research & testing
Project description: Testing
Location: UK
Phase of project: Pilot & demonstration
Sector of project: Research & testing
Project description: 1 TPD solvent demonstration
Location: UK
Phase of project: Lab validation
Sector of project: Research & testing
Project description: Bench scale testing and development
Location: Switzerland
Phase of project: Operational biogas plants
Sector of project: Biogas
Project description: 5 plants processing 1,700 m3/hr of biogas
38+ biomethane facilities
Location: Germany
Phase of project: Operational biogas plants
Sector of project: Biogas
Project description: 27,500 nm3/hr of CO2 removal for commercial biogas upgrading
Location: USA
Phase of project: Engineering phase
Sector of project: Oil & gas
Project description: Gas turbine carbon capture plant with CycloneCC
Location: Germany
Phase of project: Engineering phase
Sector of project: Cement
Project description: Scaling from 100 to 2000 TPD CO2 capture
Location: UK
Phase of project: Engineering phase
Sector of project: Oil & gas
Project description: UK's largest industrial CO2 capture project
Location: Spain
Phase of project: Engineering phase
Sector of project: Cement
Project description: 200 TPD carbon capture plant
Location: India
Phase of project: Operational
Sector of project: Steel
Project description: 5 TPD carbon capture plant
Taiheiyo Cement Corporation
Location: Japan
Phase of project: Operational
Sector of project: Cement
Project description: 10 TPD carbon capture plant
Location: UK
Phase of project: Engineering phase
Sector of project: Energy from waste
Project description: Demonstrate effective carbon capture technology in EfW plants